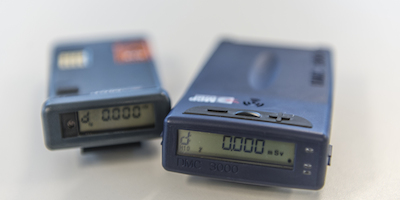 General Information
The operational dosimeter, named DMC, is required, in addition to your personal dosimeter, for working in :

LIMITED STAY controlled radiation areas
HIGH RADIATION controlled radiation areas.

This dosimeter features a direct dose display (in real time), audible indication of the radiation level and alarm functions when thresholds for dose or dose rates are exceeded.
The DMC configured in "pool" mode can be shared amongst colleagues (without going to the dosimetry service).
DMC�s user�s guide .pdf
Responsability
4x DMC, configured in "pool" mode, are available at the TE-EPC secretariat (866/2-C04).
These DMC are dedicated to EMERGENCY INTERVENTIONS for the operation of the LHC (Standby-service and support) where some areas can be classified into LIMITED STAY controlled radiation areas.
These DMC are under the responsibility of Christophe Mugnier, who is in charge of the standby-service.
Rules of use
PRE-REQUISITE - each user is required to:

The rules of use for the TE-EPC group are the following:

For planned interventions in limited stay controlled radiation areas (e.g. technical stop), please go to the dosimetry service (building 55/R-004) to obtain an operational dosimeter for the duration of your activities.
For emergency interventions in limited stay controlled radiation areas (e.g. in the framework of the LHC Stanby-service), please use the dosimeters configured in "pool" mode available at the TE-EPC group secretariat.
Don't forget to bring with you the IMPACT number linked to your activity, you will need it for the activation of the DMC.The IMPACT number of the interventions for the LHC Stanby-service is displayed on the DMC itself.
At the end of the intervention, the DMC must be brought back to its points of loan.
Please report any anomaly to the service concerned.



Useful information